Welcome to my second grade classroom, my home away from home.  Each year, I refine my classroom with special finds from Target and Hobby Lobby (my favorite!) to make it comfortable and inviting. I love to think outside of the box, using plastic table cloths for curtains and bath mats for classroom rugs. My goal is to make the room a safe, creative space that promotes engagement and exploration.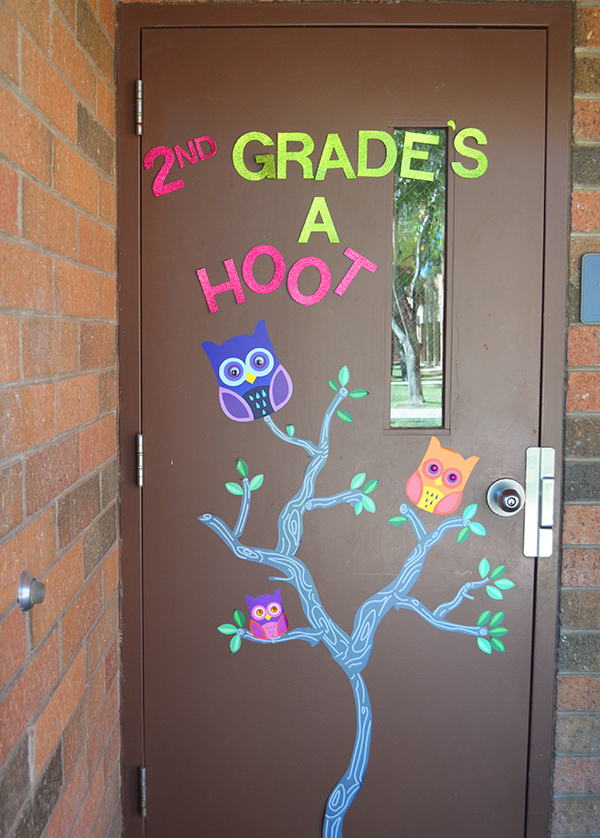 Curricula
As a traditional academy teacher, I use Spalding spelling, HMH Journeys reading, and Saxon math to teach highly-performing students at an accelerated pace. I use the district-prescribed curricula along with our reading and math strategy animals to help students learn, apply, and transfer critical strategies across settings. My classroom décor centers around Hazel Hoot, an adorable green screech owl, and her special strategy friends. See how I integrate Hazel's Reading Roost and Problem-Solving Pond along with our hands-on tools to support and enhance required curricula.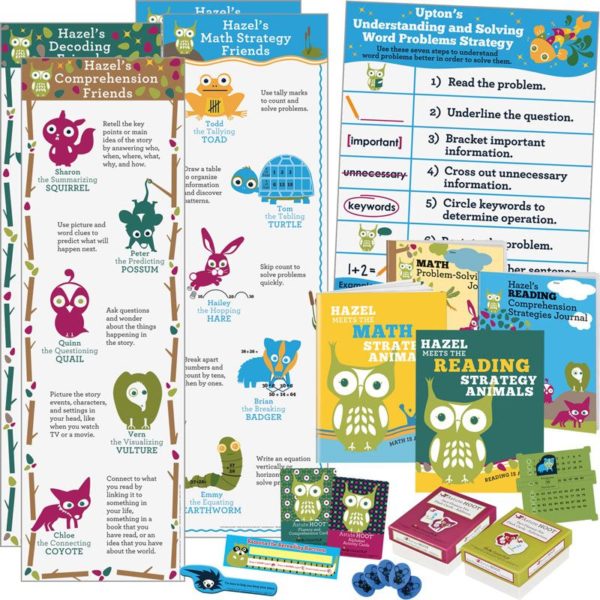 Special Spaces
Hazel's Reading Roost
In our charming book, Hazel Meets the Reading Strategy Friends, Hazel stumbles upon a magical tree in the forest. Out of the tree appear 10 colorful woodland animals that each introduce a research-based, standards-aligned reading strategy. These animals guide Hazel to become a proficient reader.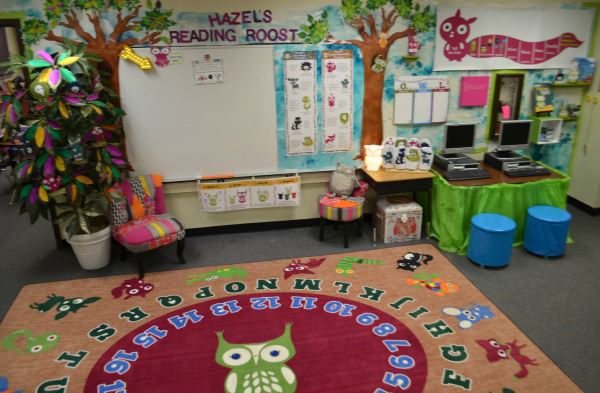 Each day students attend Hazel's Reading Roost, my guided reading group, as one of their four reading rotations. During guided reading time, I use the woodland animals to teach specific strategies and concepts through the context of authentic literature.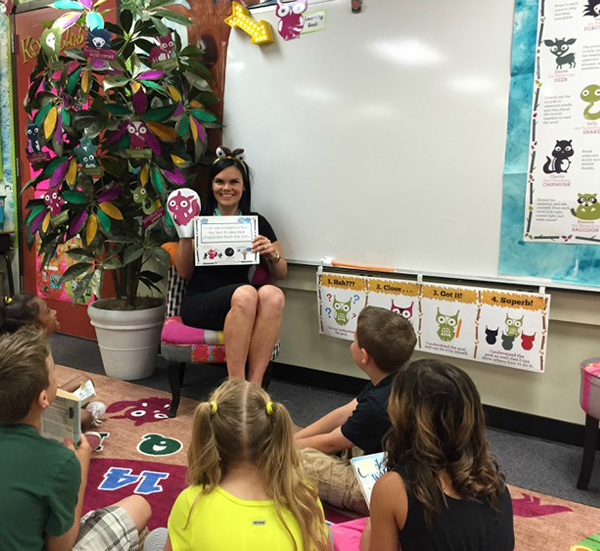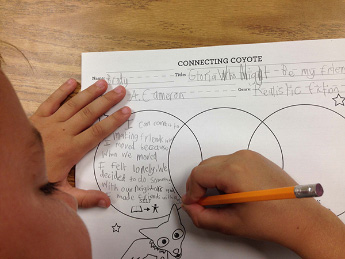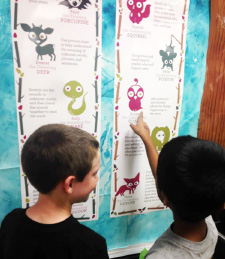 I use our animal puppets and reference our Decoding and Comprehension Banners throughout the lessons. Students use our accompanying graphic organizers and our hands-on tools to practice and reinforce the strategies.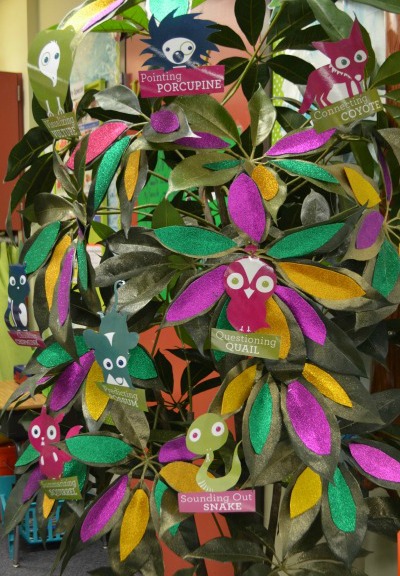 To replicate the magical tree, I purchased an inexpensive faux tree from Goodwill and gave it a dusting of gold glitter spray paint. I glued glitter foam leaves to give it an enchanted gleam and used Velcro to attach the animals. This allows for easy removal during reading group time.
During guided reading group time, students sit in a circle on our  Astute Hoot's Numbers and Letters Rug. I post a specific learning goal for each group and reference it throughout the lesson using our Learning Scale Banner. Students enjoy monitoring and reflecting upon their thinking and learning. They understand that honest ratings help me as a teacher because I can see what they understand and areas in which they need more help.



Our hands-on tools, such as Rereading Raccoon E.Z.C Readers and Detecting Deer Picture-Clues Windows, are displayed on shelves right next to Hazel's Reading Roost.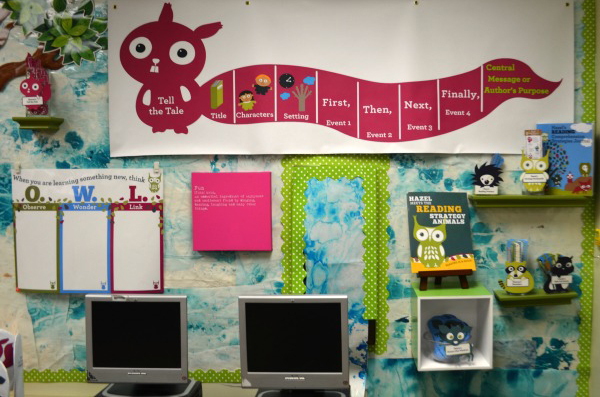 I purchased inexpensive shelves from Target and painted them Hazel green. I found a variety of glassware at The Dollar Store and added these adorable animal labels to complete the display. This display maximizes storage space and provides easy access to necessary resources.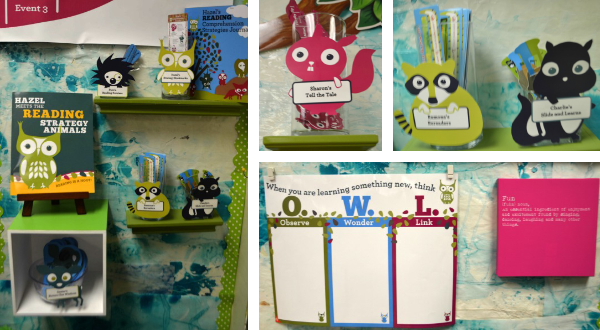 Behavior management is critical for successful small group instruction. Before I start groups, I turn on my owl lamp as a signal to students that I am not to be bothered unless it is an emergency. I've also worn an owl headband as a signal as well. Select a visual cue that works for you, then model and practice extensively in the beginning of the year.
Problem Solving Pond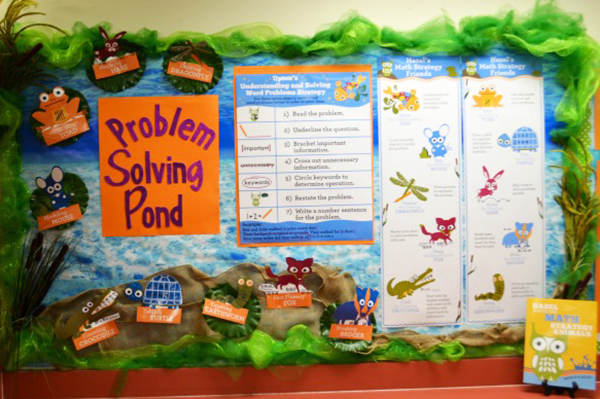 In our sequel, Hazel Meets the Math Strategy Friends, Hazel swoops down to catch her dinner at the local pond when she grabs Upton, an enchanted fish. Upton oversees Problem-Solving Pond and promises to introduce Hazel to his animal friends, all who teach a special problem-solving strategy. Using these strategies and Upton's guidance, Hazel blossoms into an accomplished mathematician who is able to tackle problems with ease.
In order to recreate the Problem-Solving Pond, I covered a bulletin board with fadeless blue water paper and added green tulle and silk pond stems to border the pond. Upton's Solving Word Problems Poster and Strategies Banners are prominent features of Problem-Solving Pond; I reference them throughout each lesson. I added Velcro to the back of each strategy animal allowing me to detach to use during lessons.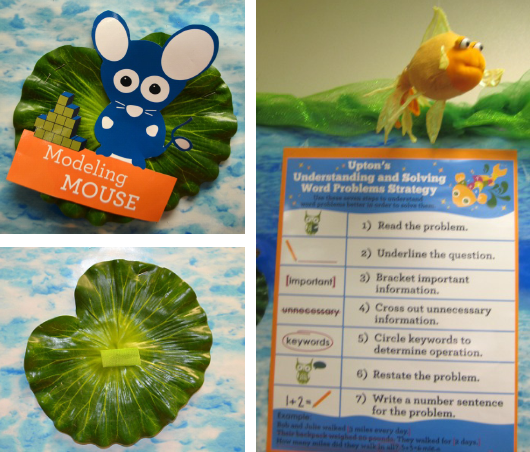 I found this stuffed animal on Ebay that looks just like Upton and hung it with fishing wire and a plastic hook. During guided practice, I toss Upton to students and he helps us complete the problem-solving steps. Students LOVE solving problems with him!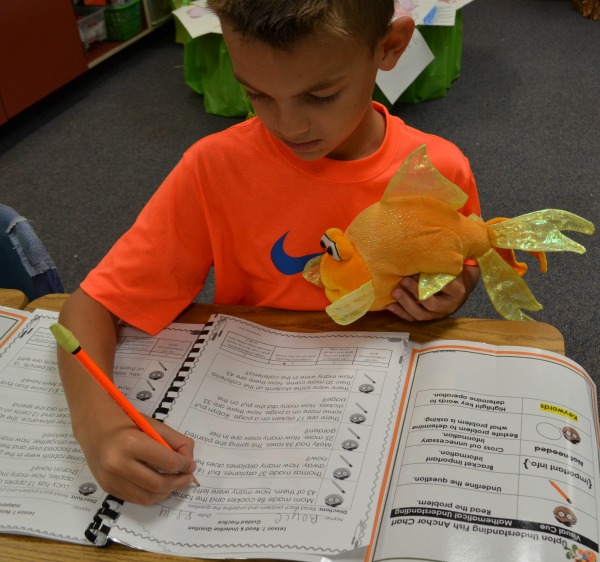 During center time, students solve Saxon story problems using the strategy animals and our Problem-Solving Journals.  They also use our hands-on tools such as Problem-Solving Mats, Breaking Badger's Slide and Learns, and Fact-Fluency Fox Flashcards to reinforce learned strategies and concepts.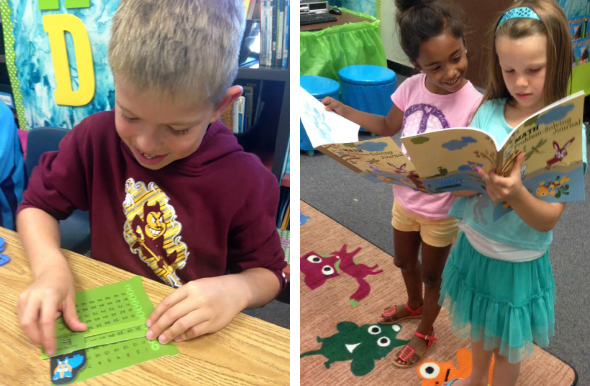 Students enjoy using the Astute Hoot rug to discuss their journal samples. They stand on the strategy animal that they used to solve the story problem and then discuss the strategies, process, and thinking they used.
The Library
My students are avid readers and I want to foster their passion so I made the library like a living room, complete with a shag rug and comfy chairs. I made "curtains" with adhesive plastic table cloths from Party City; I simply placed adhesive along metal window valance and folded under remaining table cloth, glue-gunning the extra onto the valance. (If the custodian only knew how much glue gun was used to create my classroom, he'd faint!)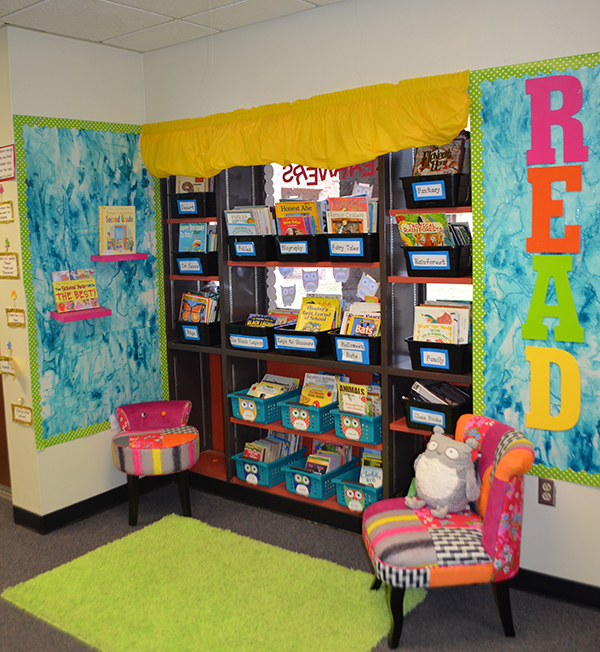 I was fortunate to inherit a comprehensive collection from my mom who was a reading specialist for many years, but was overwhelmed at first with storage and organization. Dollar Store dishpans were the answer! I sorted books based my topic and/or genre and also labeled reading level. I made tags for the front and printed labels for the front of each book; this helps students return books to the appropriate location.
Center Spaces
Word Wizard Center
At the Word Wizard Center, students practice their Spalding spelling words using Sally the Sounding-Out Snake and Charlie the Chunking Chipmunk. I created a class set of Sally Sounding-Out Slates and Charlie Chunking Chipmunk Syllable Slates using a color printer and cardstock. I glued them together so they are double-sided and laminated.


During Spalding instruction and the Word Wizard Center, students sound and stretch one syllable words on the Sally side, recording one phonogram in each of Sally's segments. Students chunk multi-syllabic words on the Charlie side, recording each syllable in one of Charlie's acorns. Students are expected to mark phonograms and analyze words to determine appropriate Spalding rules and syllable type.
Word Wizard center prep is a breeze! Each week, students use whiteboard markers, laminated Slates or Chunking Chipmunk's Slide and Learns to practice spelling words. I simply switch spelling lists and learning goals as needed.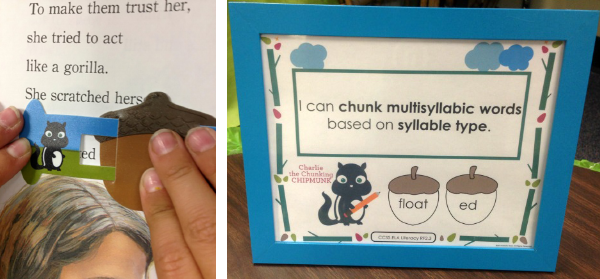 Charlie's Nutty About Syllables Bulletin Board and Word Wall are used as a reference during Word Wizard time. Students use the Syllabication Posters to help determine syllable type and we add weekly words to the Word Wall.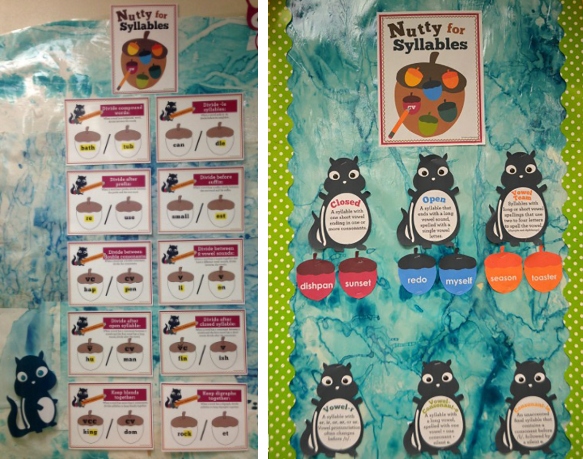 Sensational Scientists Center
During the Sensational Scientists Center, students complete an inquiry-based activity aligned to our current unit of study. Students record observations, questions and new learning on their O.W.L. (Observe, Wonder, Learn) graphic organizer or in our science journal. I place leveled non-fiction text and several hands-on materials for students to explore. Students get to wear "lab coats" (mens' white button down shirts) which they LOVE!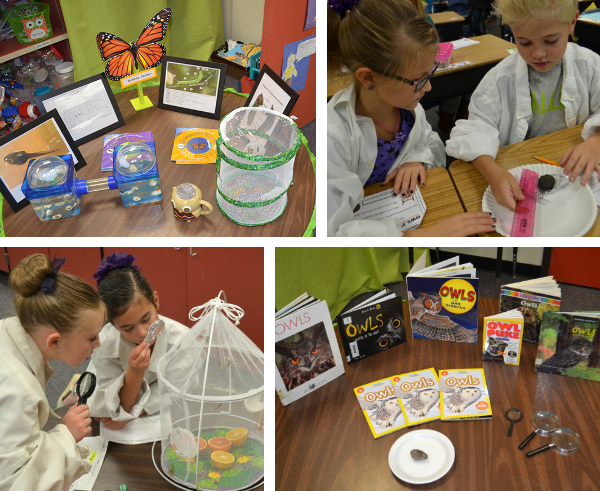 Writing Center
It is important for students to respond to text in writing using textual evidence to form opinions, support arguments, make connections and inferences, and determine author's purpose. During the Writing Center, students use our Reading Response Journal and sentence frames to respond to text. Students also work on shared research projects such as these animal research murals created as part of our Charlotte's Web study.
During our Charlotte's Web unit, I turned the Writing Center into Zuckerman's Barn, replacing the chairs with bales of hay. Students painted the background (sky, sun, grass) and I added the animals as students completed their research murals. I also included a wide variety of informational text about farms and farm animals to assist with research.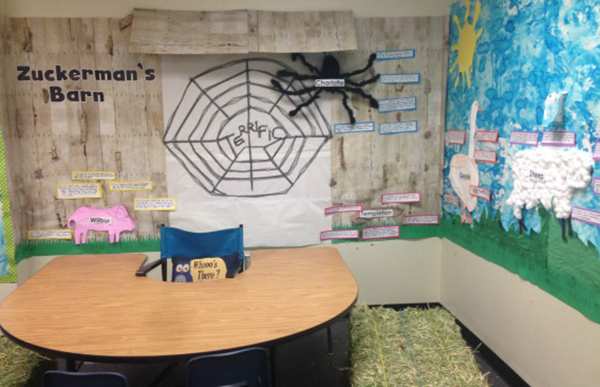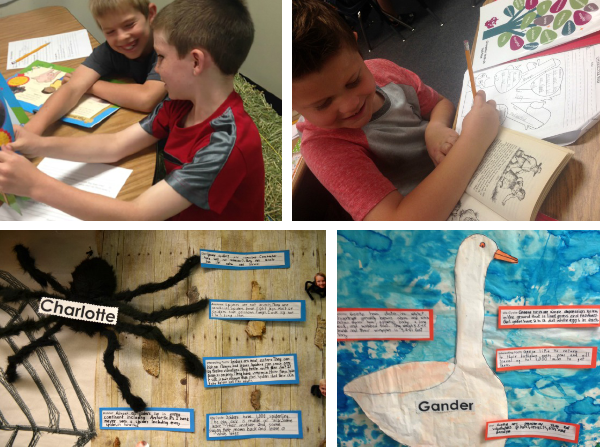 Murphy Market
A classroom market is a fun, easy way to strengthen students' money skills. This guaranteed favorite can be used throughout the year and modified according to instructional needs. Visit your local dollar store for grocery baskets, cashier receipt pads, calculators and price labels. (Make sure each student in the center has a grocery basket so each has opportunity to shop.) Make a store awning using a cardboard science project trifold and cover it in fabric. A simple, inexpensive cash register can be found on e-Bay or local thrift shops.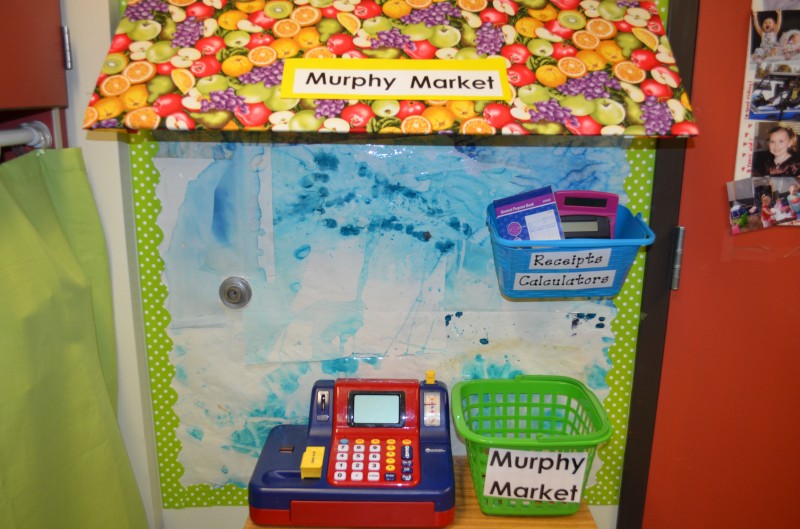 Bring in canned products, purchase plastic play food or pull out Treasure Box trinkets. My market is holiday-based to appeal to student interest so it changes regularly. Students can shop for Thanksgiving dinner, holiday gifts, school supplies, etc. Changing the product once a month promotes engagement as students are excited to see and purchase new items.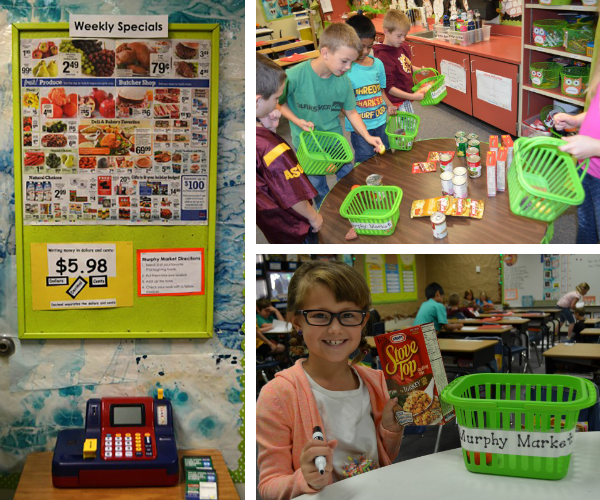 Price items according to students' instructional needs. If you just introduced money, keep prices low and easy to count. This provides counting practice and builds number sense. As students become proficient counters, increase the prices and have students add more complex numbers. You can also add dollars and cents to increase difficulty.
Add functional text forms to incorporate reading and writing standards into the market. Simple items such as shopping lists, receipts and inventory check-lists require students to read and write a variety of functional text, an important component of informational text.
Bulletin Boards
Golden Keys to Success Behavior Management
I use the Golden Keys to Success Behavior Management Plan to build character, promote self-monitoring, ensure high behavior expectations, and provide daily home-school communication. In this program, there are 5 Keys that teach important life skills and qualities that students need to become successful citizens. Under each key are specific behavior indicators; each indicator is explicitly taught, modeled, and practiced the first week of school. This bulletin board is in a prominent location in the front of my classroom.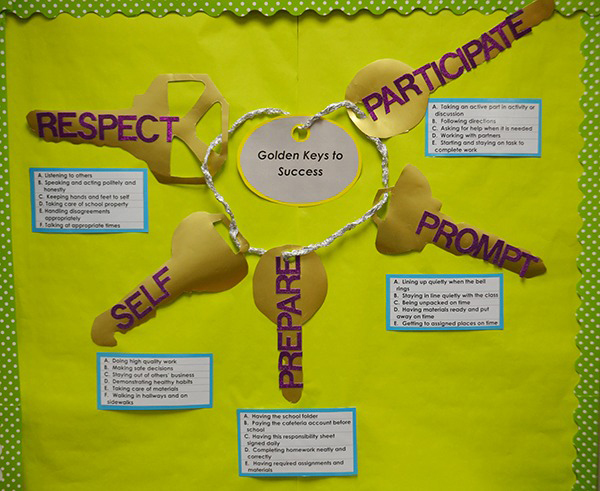 Hoot & Holler For Student Work:
Students love to see their work displayed! I have 2 large bulletin boards centered solely on student work.  I made the paper using turquoise watercolor paint, water and white butcher block paper. I love the watercolor effect. I added laminated orange cardstock squares as a backdrop for student work. I change this board frequently to display our learning.
During our Charlotte's Web unit, students analyzed Wilbur's character traits, citing evidence from the text. They each chose a character trait  and painted these pig portraits with the trait and textual evidence listed below.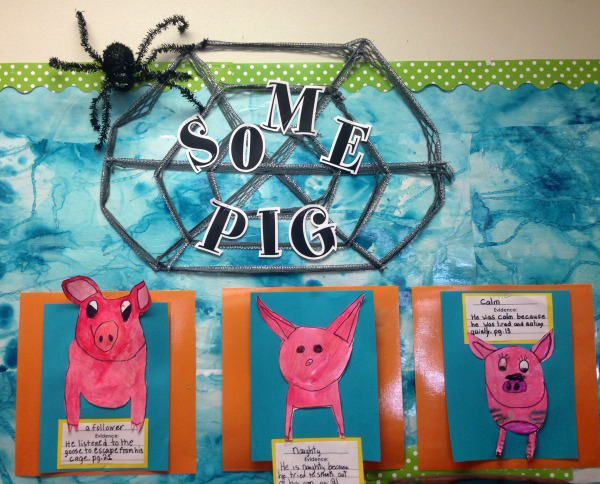 Keep Calm & Teach On Board
We've all had that dreadful teacher moment–the time when a student vomits all over you or your behaviorally-challenged student forgets his meds during a full moon. It's that moment that sends shivers down your spine, makes you question your career choice and urges you to head for the hills and never look back. However, those 25 bright, shiny faces are staring at you, waiting for your reaction and depending on you to remain cool, calm and collected.
In times like these, rely on your Keep Calm and Teach On board, a special reflective space that helps you de-stress, regain composure and focus on the big picture.  This board should reflect your personality, interests and favorites. Fill with special pictures, mementos, dreams and aspirations.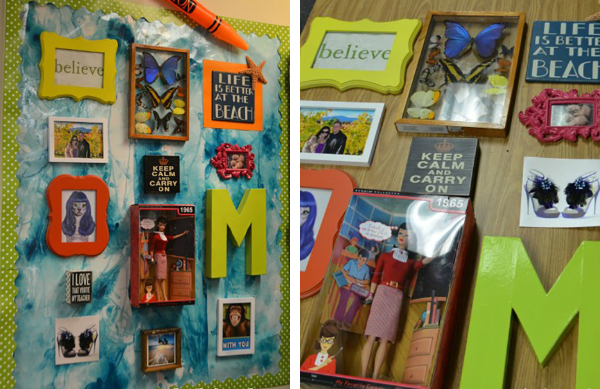 To create my board, I gathered several of my treasured pictures and mementos and then narrowed down to my absolute favorites. I measured my dimensions of my allotted space and replicated my board on a large table, rearranging several times until I found the perfect arrangement.  It took only about 10 minutes to hang (thanks to my trusty glue gun).
Besides providing some stress relief, my Keep Calm and Teach On board helped organized my desk area. I moved all of my important, yet unsightly school paperwork (staff phone list, parent directory, special notes, etc.) and taped to the inside of my cabinets right behind my desk. Now I'm ready to tackle any classroom challenge that comes my way!
Order & Organization
Let's face it, the minute you sign your teaching contract, you become a hoarder, collecting everything from egg cartons to baby food jars. I don't know about you, but my classroom is very limited on storage. To make the most of limited space, I store materials underneath my rectangular tables and cover it with adhesive plastic table cloths (I love these!).  No one even will guess that you have 100 coffee cans under there!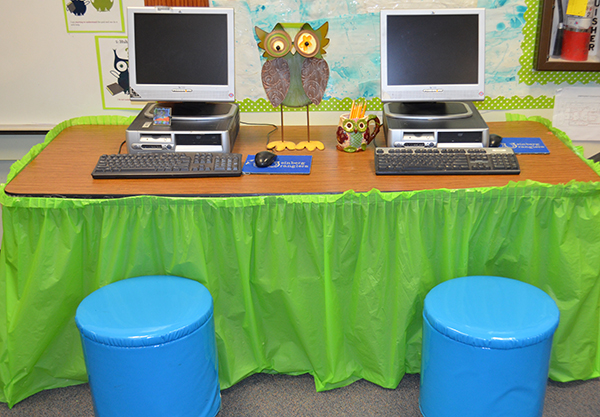 These colorful cardboard book boxes are another life saver! I purchased several of these from the Target dollar section and use them to house reading center games. I simply sorted my games and printed labels for each box. Each week while planning for centers, I simply pull the game(s) I want and put them into my daily work bin. It makes planning such a breeze!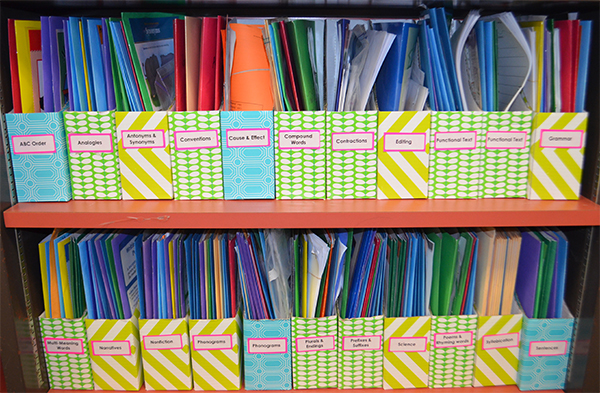 Details, Details, Details
Sometimes it's the small things that matter most. I regularly add new owl accents, picture frames and other items to the classroom (I might have a problem….). Target and e-Bay have a wide variety of owl accents and I love the fuchsia, turquoise and apple green frames and accents found at Hobby Lobby.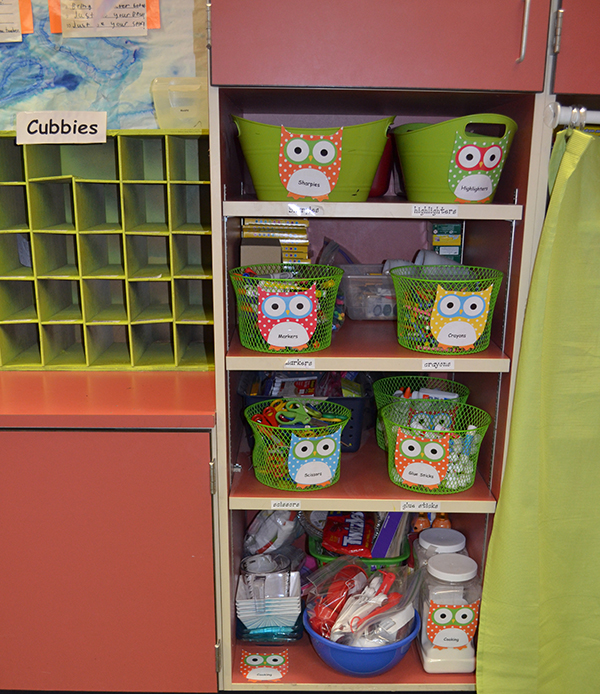 I strive to make my classroom a magical place full of laughter, learning, and love.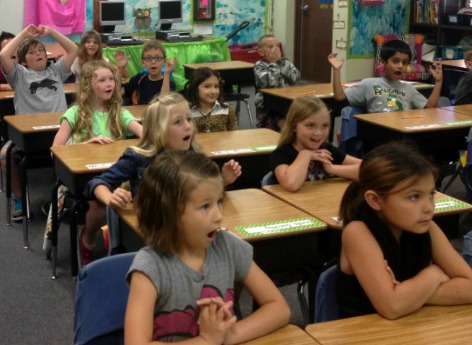 Please contact me if you have any questions about my classroom. I'd love to hear any great ideas you have as well!