Do you ever feel like Miss Nelson, calmly asking the class to settle down while they choose to squirm, giggle and whisper instead? As spring fever hits, patience and persistence decreases and our inner Viola Swamp starts to emerge.
Can you relate? Our Miss Nelson Is Missing! Unit is the perfect way to engage students while providing effective instruction aligned to Common Core State Standards. A built-in behavior system helps keep those squirms, giggles and spring fever symptoms under control.  A preview of our favorite Miss Nelson Is Missing! activities is included below. Download the complete unit here.
1. Create a visualization and take a Visualization Venture.  During reading group time, students closed their eyes and I read the passage aloud. They then put up privacy folders and drew a visualization using key words from text.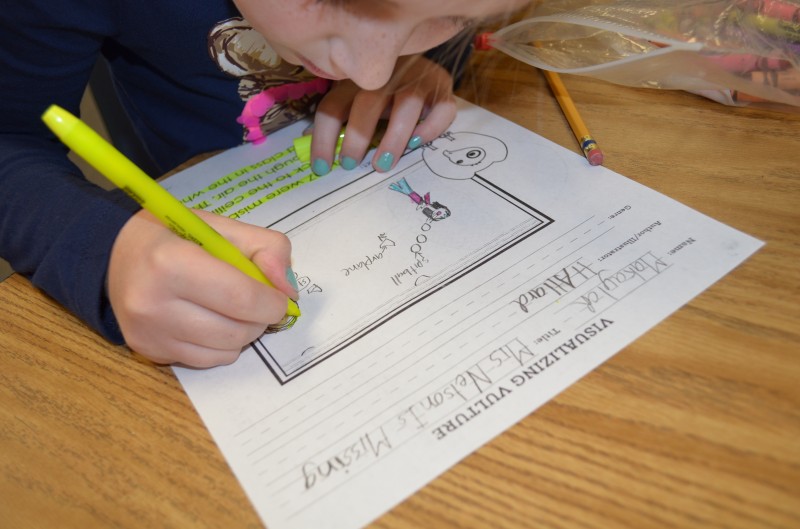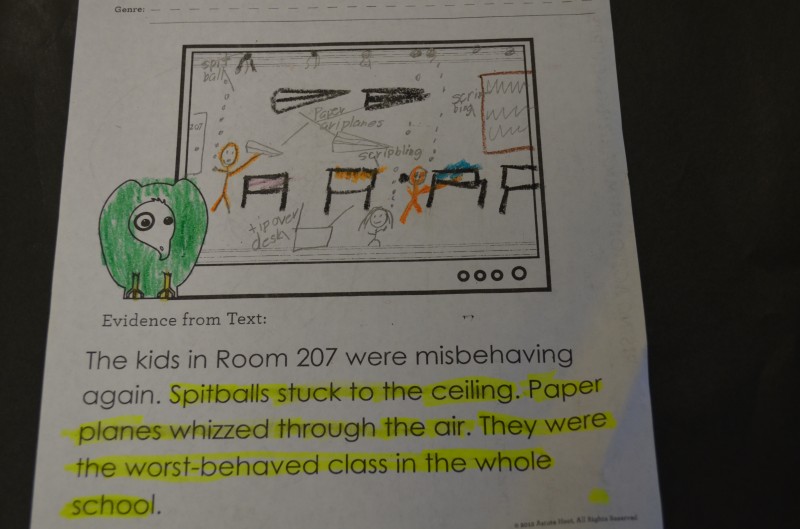 After reading groups, we took a Visualization Venture; students silently walked around room, observing similarities and differences. They discussed observations with seat partners and then we discussed as a whole group.  The class immediately recognized that most had elements listed in the text (i.e. spitballs, paper airplanes, misbehaving students), but the details of the characters and layout of classroom were different because people picture things differently based on their backgrounds and experiences.
2. Make character analysis puppets. I glued two lunch bags together with bottom flaps on top and facing out to make a hand puppet. Students colored and cut out Miss Nelson and Viola Swamp heads and glued one head on each flap. Then they cut out descriptive phrases and glued on appropriate character. To differentiate, you could have students record their own descriptive phrases for each character, using specific evidence from the text.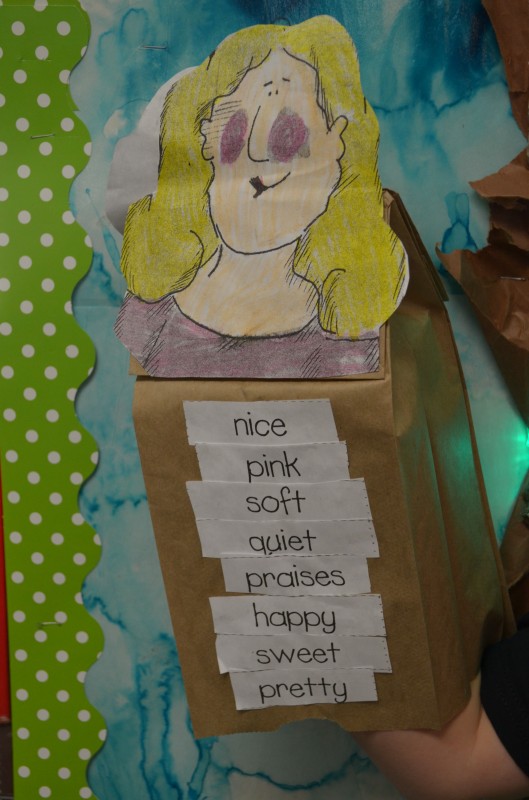 3. Use a Venn Diagram to compare classes. We used a Venn Diagram to compare our class to Miss Nelson's class. While my class is usually well-behaved and on-task, they have been extremely talkative and hyper, two tell-tale symptoms of spring fever. One of my students   suggested that we add talkative to Miss Nelson's class; I asked if that fits our class as well. Sheepishly they admitted it did and we reviewed     appropriate talking times. "We don't want a visit from Viola Swamp," I said in a stern, serious voice. "Remember what she did to the kids in Room 207? That would be horrible, especially right before spring break!" I reminded them.  While several cracked a little smile, a few looked very serious and it planted the seed for upcoming plans.
4. Post Viola Swamp sign. The next morning I posted a large sign that said, "Viola Swamp Is Watching You" on my classroom door. I simply enlarged Viola's head on the copier and colored with crayons. I typed out the text and placed around her head. Before we walked into the classroom, I showed the class and reminded them that we didn't want a visit.  Every time we left or entered the classroom, a few would whisper, "She's watching us!"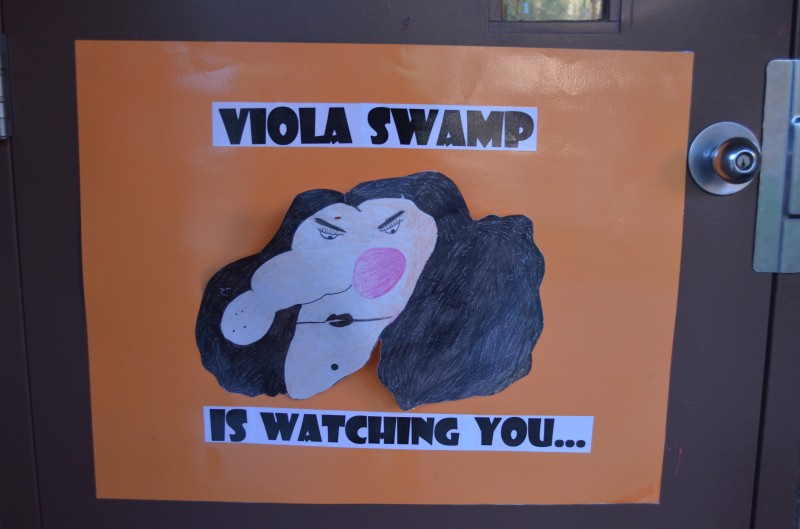 5. Make Viola Swamp behavior slips. Since I had a few believers, I knew I could capitalize on their naivety with Swamp Slips, behavior notes placed on a few students' desks each night before I left school. In the morning, the few that received a Swamp Slip would immediately remedy misbehavior (disorganized desk, shouting out, loud in line, etc.).  If someone displayed symptoms of spring fever, another classmate would whisper, "You don't want a Swamp Slip!"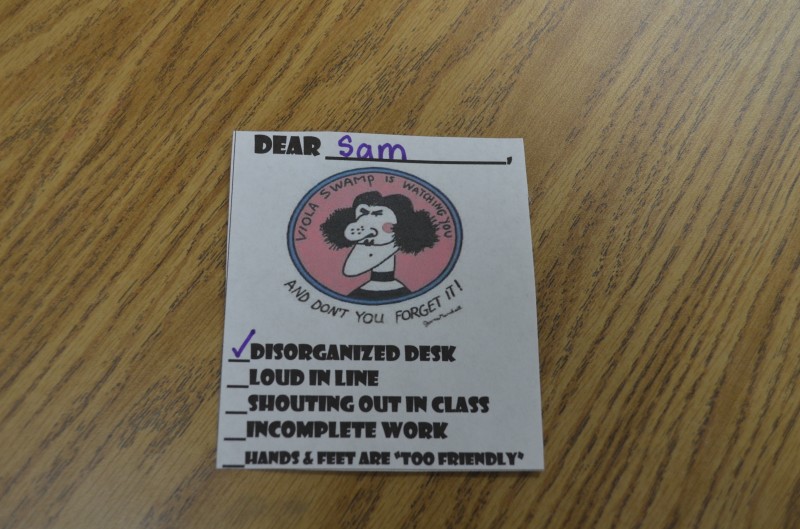 6. Dress up as Viola Swamp. On Friday, the last day of our unit and the last day before spring break, I decided to dress up like Miss Swamp. I wore an old, black dress, wide belt, a curly wig and knee-high argyle socks. I placed thick, black moustaches on my eyebrows and made one into a hairy wart for my chin. The finishing touch was a large witch nose I found at a local party store—it completed my Viola Swamp transformation.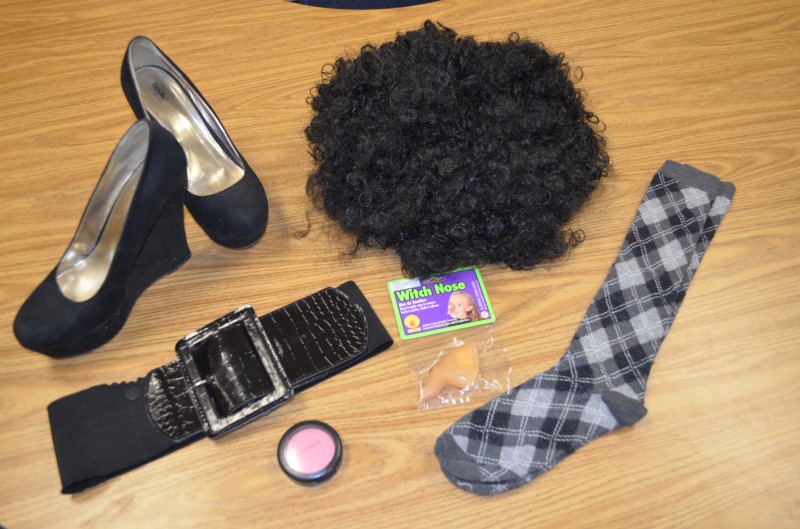 I had the teacher next door walk out to get my class, telling them that she hadn't seen me all morning. She told them to get unpacked while I hid out in the school library. After 5 minutes, I swung open the classroom door and screamed, "I am your new teacher, Miss Viola Swamp!" and I rapped the nearest desk with a ruler.  The kids look horrified at first, but then one shouted out, "It's just Mrs. Murphy!"  I kept the costume on and took pictures with each of them.
7. Make a Swamp Snack. At the end of the day, students followed a recipe to make a Swamp Snack recipe. They absolutely loved it and they were reading functional text and using measuring tools in the process. It was the perfect culmination activity!