Teaching opinion and persuasive writing can be difficult, but not any more. Here are 3 secrets for delivering engaging, differentiated writing instruction from our latest strategy-based resource, Cats vs Dogs: A Common Core Research Opinion Writing Unit. Plus, it's on sale at our TPT store!
Select an engaging topic: Cats versus dogs has been a hotly debated issue at recesses and lunch tables worldwide. Which one is smarter? Which one is cleaner? Which one is the ideal pet? Students love cats and dogs and as a result, they will enjoy sharing their opinions regarding this popular pet choice.
Incorporate research: Select leveled informational texts that students can use to research their topic. Use this research as evidence to support the ideal pet choice. National Geographic Kids: Cats vs. Dogs by Elizabeth Carney is a great choice for early writers as it covers key topics such as diet, grooming, sleeping, intelligence and training and includes photographs and other graphic elements to support comprehension.
Model how to conduct research using each topic in the book. Read pages aloud; then write key points on a graphic organizer. In Cats vs. Dogs, a Venn diagram is included for each topic in the book. The Venn diagram helps students easily compare and contrast cat and dog traits and features.
Use the book to summarize key points for each subsection. Research can be completed in a whole group or small group setting. Either way, students can take notes on their graphic organizers as the qualities are researched and discussed.
Teach the writing process in a systematic manner: The Cats vs. Dogs Unit uses components from our Writing Intervention Tools file to systematically guide students through the opinion writing process and teach critical writing strategies in a child-friendly way. Cats vs. Dogs centers around our charming book, Hazel Meets the Writing Strategy Friends.Students meet Hazel, an adorable screech owl, who takes a vacation to the desert to visit Grandma Hoot. Grandma suggests that Hazel take a hike for writing inspiration and along the way, she meets 10 strategy animals. Students use these strategy animals to complete the opinion writing process as outlined in the Suggestions for Use section of our unit.Here's a sneak peak of our writing strategy animals in action: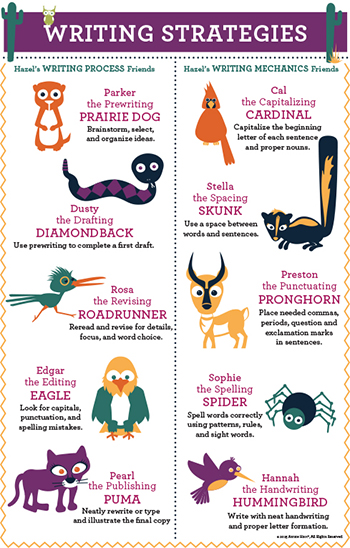 This unit has all you need for successful opinion and persuasive writing instruction. Students will LOVE the strategy animals and engaging content; you will love the detailed instructions and ease of implementation. This is a secret you will want to share!