I'm so excited to be back in the classroom this year! After 14 years as a special education resource teacher, I changed gears to work in the capacity of an Instructional Coach and Special Education Coordinator in high needs schools. Although this work over the past 4 years has been rewarding, I've missed the direct, daily contact with students.
After I accepted my new position as a K-3 Special Education Resource Teacher, I quickly got to work in planning out my new classroom. I considered student need, layout, materials, and decor to prepare my room. I'm thrilled to share these 3 essential components of my new classroom with you!
1. Strategy-Based Bulletin Boards and Learning Centers:  I set up strategy-based bulletin boards that are being used to support and enhance district curriculum.  My students are already in love with all of the strategy animals!  Our strategies provide excellent interventions to use with any curriculum as they strengthen HOW students learn,  and do not necessarily change WHAT students learn. Here are some specific examples of how I incorporate our strategy animals into the curriculum.
Reading
Using the Wilson Language System, I incorporate our Sally Sounding-Out Slates or Charlie Syllable Slates to provide additional visual cues and practice to spell and decode words in isolation. These can also be used to focus on specific words in connected text to practice sounding out the phonograms. It not only makes learning fun, but it also helps struggling students who need additional support. This intervention uses the same content and Wilson instructional method, but provides a different format for practice and student response. Using the Slates and accompanying graphic organizers also provides a structured space for written dictation. Using our reading strategy animals along with a systematic, researched-based curriculum such as Wilson enhances motivation and investment, which is incredibly important for reluctant readers.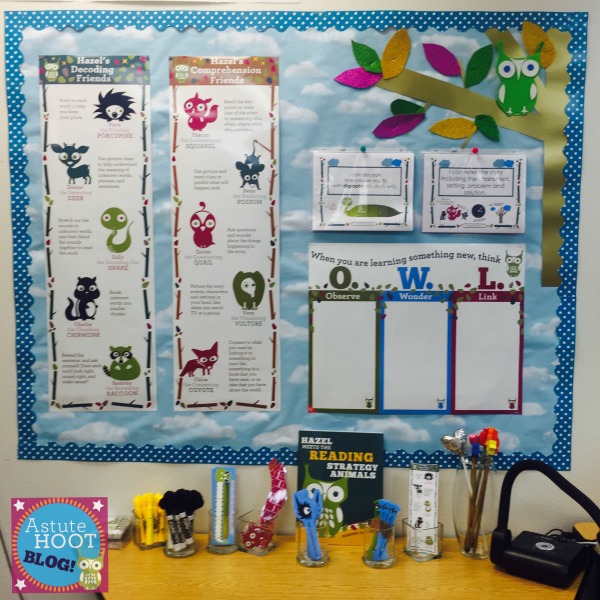 Math
Our math strategy animals fit in perfectly with the district curriculum. Students are expected to solve 2 or more word problems as part of the daily lessons. I introduce each of the Problem-Solving Pond strategy animals systematically as they correlate to the standards and concepts. As students become proficient with one strategy, I introduce another. After all strategies are introduced, students learn how to pick the most efficient strategy for the problem. Upton the Understanding Fish is used daily to help students complete the seven problem solving steps, explain thinking and justify solutions. Just as with Wilson, using these strategies does not alter or modify the curriculum in any way, it just enhances it and presents it in a way which students can grasp it more easily by making the concepts more concrete. Student connect with the strategy animals and are motivated to use various strategies to solve the problems. It also relieves math anxiety and builds independence by providing a toolbox of "animal friends" students can use to solve problems.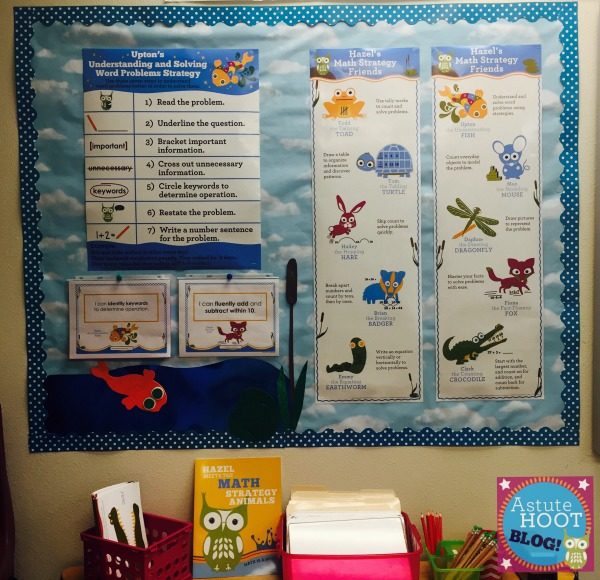 Writing
There are 5 animal strategy characters which teach the writing process stages and 5 animals who focus on mechanics and conventions.  Writing can be especially difficult for students with special needs. The strategy animals help eliminate writers' block and encourage students to persist with writing stamina.  Because each animal has a specific job, it forces students to pay greater attention to each critical part of the writing process.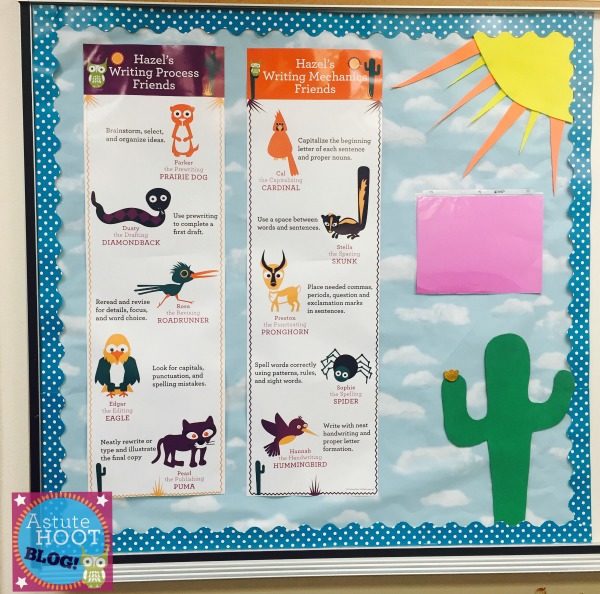 2.  Reading Corner: I set up an inviting and comfortable reading corner which has books organized by level and topic. My students love the Beanie Babies sitting on the bookcase.  They get to each pick one to read to on Fun Fridays to build fluency.  My favorite part of this area is the multi-sensory syllabication charts featuring Charlie the Chunking Chipmunk.  I attached pipe cleaners to the charts so students can practice chunking words into syllables.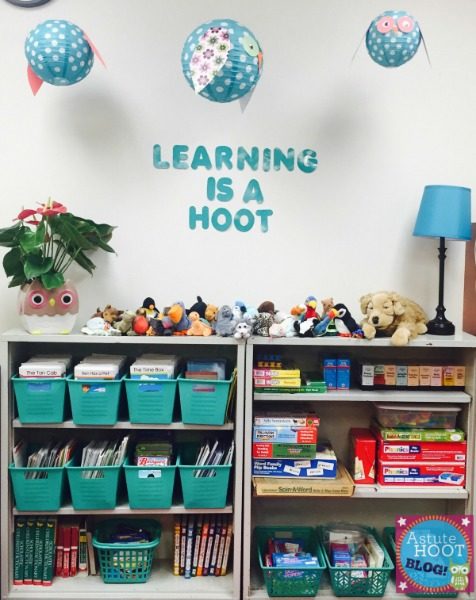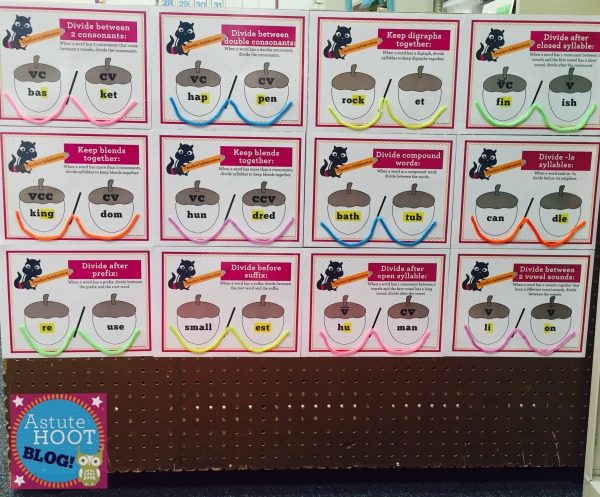 3.  Sensory Support:  Knowing that many of my new students would need support with sensory issues, I prepared various options for them.  I have flexible seating arrangements using wiggle cushions, exercise balls, and lap desks.  Also, I put together a sensory basket containing Play-Doh, squeeze balls, Legos, Unifix cubes and a timer for 2 of my students.  Lastly, I signed up for a Go Noodle account and we use this for brain breaks.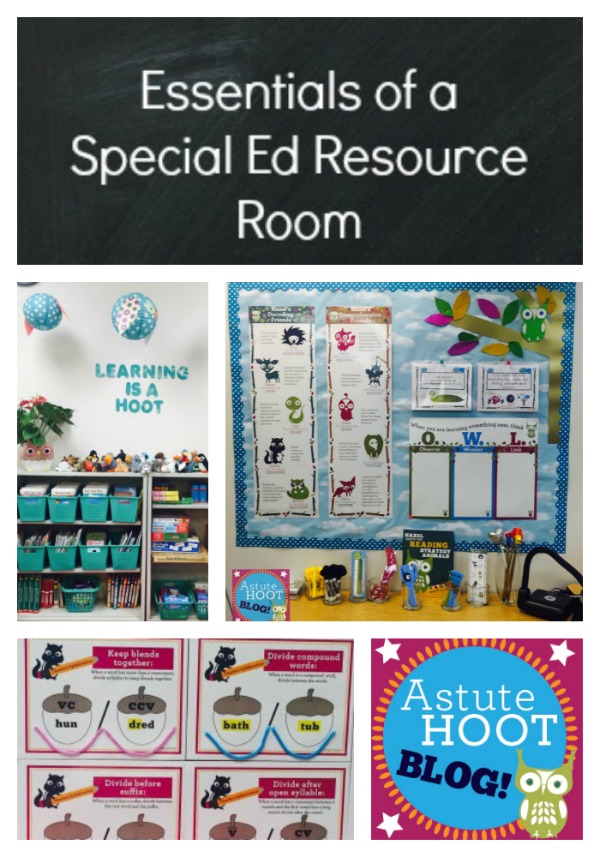 The first few weeks of school have been amazing!  I'm so glad I followed my heart and returned back to the classroom.  Helping students with special needs truly is my calling.  I hope you enjoyed taking a peek into my new resource room. I'd love to hear about how you set up your resource room too!  Please comment below.
See our strategy animals in action in this short video!